From ab wheels to weighted vests, these gym accessories for men can maximise your gains and add a new dimension to your workouts.
Discover the best dumbbells for home workouts

Men's Fitness Best Buy
Fat Gripz Original
BUY IT NOW:
£26, shop.fatgripz.co.uk
Use: Supports targeted arm training to build bigger arms | Size: Available in 3 different sizes | Colours: Blue, black or orange
Big-grip training has long been hailed as the 'secret' to bigger arms and improved grip strength. More than just bulging biceps, grip strength affects every lift you do – from deadlifts, to lat pull-downs, to pull-ups – and for most gym-goers, Fat Gripz is the go-to brand, earning the top spot on our round up of the best gym accessories for men.
Available in three different sizes, simply pop them on the barbell or dumbbells you're using and prepare to feel the burn.
Men's Fitness Recommended
Strength Shop Chalk Ball
BUY IT NOW:
£3.99, strengthshop.co.uk
Use: Protects your hands from blisters and tears when lifting & provides added grip | Features: More eco-friendly and effective than liquid chalk; includes carry bag | Size: Available in 3 different sizes | Colours: Blue, black or orange
Lifting chalk forms a protective layer over your hands, which protects against gym-related blisters and tears. But more than that, it gives a boost to all-important grip strength, taking some of the strain off your forearms – particularly during deadlifts.
There are loads of chalk products out there, but Strength Shop's Chalk Ball is more eco-friendly and effective than bottled, liquid varieties.
Bored with your usual gym routine? Try this full-body dumbbell workout 
Body Power Premium Ab Wheel
BUY IT NOW:
£8.49, fitness-superstore.co.uk
Use: Targets your core and abdominal muscles | Features: Comfortable, rubber handles; smooth rolling motion | Materials: Polypropylene body, TPR grips, PVC handle ends | Weight: Approx. 400g | Size: 30.5 x 14.5 x 14.5 cm; wheel diameter: 14.5cm | Colour: Black, silver and red
If you want to leave your abs shaking like a leaf, wheel out the ab wheel – four sets of ten at the end of your workout should do the trick.
This offering from Body Power is simple but effective, with comfortable rubber handles and a smoother rolling motion than some of the more poorly designed options out there.
Body Power 15kg Weighted Vest
BUY IT NOW:
£49.99, fitness-superstore.co.uk
Use: Adds extra weight to strength training workouts | Features: Removeable sand weights, adjustable Velcro straps | Weight: 1-15kg | Size: One size | Colour: Black with red trim
Weighted vests make it easy to add extra resistance to bodyweight moves like dips, lunges and pull-ups, forcing your body to work harder and, ultimately, progress more.
The Body Power 15kg Weighted Vest is completely adjustable, with removable sand weights and Velcro straps which ensure a secure fit.
Complete your kit with the best gym shorts for men
Beast Gear Weight Lifting Straps
BUY IT NOW:
£9.97, amazon.co.uk
Use: Aids grip during heavy lifts | Materials: Cotton & neoprene | Features: High-strength cotton; tighter stitching to sustain heavy loads; injected gel grips for support and comfort | Weight: 50g | Size: 29 x 12 x 2 cm | Colour: Black with red and white details
Straps are absolutely nothing like Marmite, but you do either love them or hate them. While they help keep your grip strong and secure during heavy lifts, some say you'd be better off lightening the load and working on improving your grip strength.
But if you are a strap man, these from Beast Gear feature high-strength cotton and injected gel grips for support and comfort. 
York Leather Belt
BUY IT NOW:
£11.99, fitness-superstore.co.uk
Use: Stablises your core and spine during heavy lifting to increase power | Materials: Leather | Features: Top quality leather for a high level of support | Size: 36" – 42" waist | Colour: Black with red and white details
Belts like this shouldn't just be the reserve of 'serious' lifters. By increasing pressure in your abdomen during heavy lifting – squats and deadlifts, mainly – the result is a more rigid core that stabilises your spine and helps increase your maximum power. This York Leather Belt is exceptional value.
Cold outside? Stay warm with the best gym sweatpants & joggers for men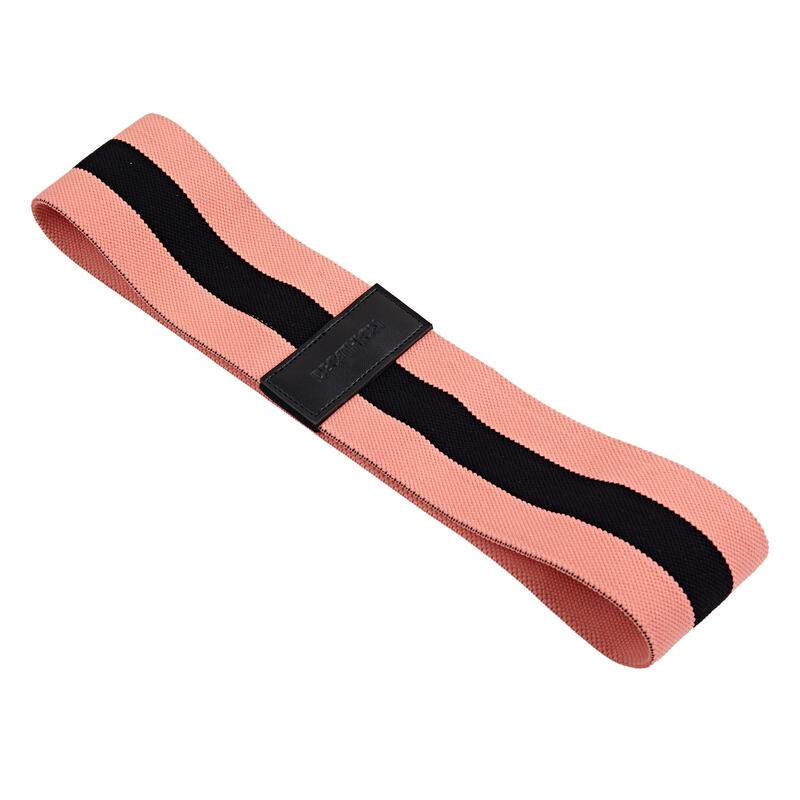 Decathlon Strength Training Resistance Band
BUY IT NOW:
£6.99, decathlon.co.uk
Use: Assists a wide range of strength and warm up exercises | Materials:  Elastodiene, polyamide and polyester | Features: Extremely durable; fabric cover for increased comfort;  | Size: Width – 8cm; Length – 62-82cm (available in light, medium or hard) | Equivalent load: 21kg at 100% stretch | Colour: Pale Coral, Carbon Grey or Black
Training bands can be used for everything from assisted pull-ups to mobility warm-up work, and you won't find any better value than this £6.99 option from Decathlon.
Available in a range of resistances, (opt for higher resistance if you're using it for assisted exercises), it should be a lightweight staple for any gym bag. 
RELATED CONTENT: